Welcome to Royaltone - Commercial Laundry Detergent Supplier & Manufacturer
Commercial Laundry Detergent Suppliers and manufacturer and supplier of commercial and professional dry cleaning, wet cleaning and laundry products and Detergents for Textiles, Suede, Leather & Fur garments. We also provide training in professional leather cleaning and Leather Cleaning Products. We are the trusted commercial laundry detergent suppliers and dry cleaning chemicals suppliers!
Royaltone is now offering our Trial Size UGG Boot Cleaning Kit! This power packed trial sized kit is designed to give you the opportunity to test drive the Royaltone UGG Boot Cleaning System. Cleans one pair of UGG in any washing machine. Call us today for more information.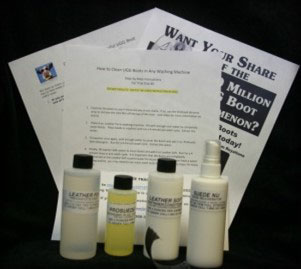 About Us
Royaltone Co., is a family owned and operated business that has been formulating, manufacturing and marketing a full line of professional and commercial laundry, dry cleaning, and professional leather cleaning products and Detergents as well as laundry spotters since 1970. Royaltone is well known for our suede, professional leather and fur cleaning academy and processes. Teaching cleaning professionals this simple, highly profitable skill has been a long standing passion for this organization.
Royaltone also offers a premium line of high quality professional laundry detergents, spotters and additives for laundry and dry cleaning. Our professional and commercial dry cleaning detergents can be used in any fluid in both injection and charge systems. These are all-in-one products that contain not only a powerful detergent complex, but also sizing, anti-static, antimicrobial, softener, deodorizer and absolutely no fillers. 100% Active ingredients. Our spotters, professional and commercial laundry products and detergents have been favorites in the industry for over 40 years.